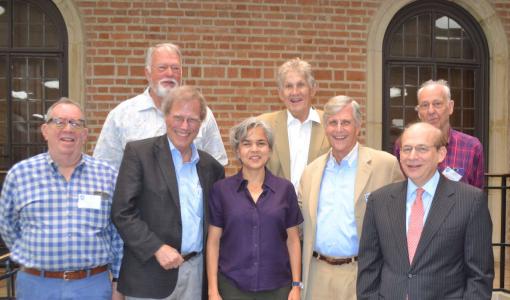 The Association of Retired Rice University Faculty (ARRUF) is a multidisciplinary community of full and associate members drawn from all ranks of Rice University faculty and their families. Retired Rice University Faculty automatically become members, and their spouses and partners are associate members. Faculty members who are participating in the phased retirement program are associate members also until they fully retire. Retirement is defined as having been employed for ten or more years and having reached an age that, combined with the number of years of service, equals or exceeds 65. Spouses and partners continue as associate members even when the principal member is deceased.

Created by the approval of Provost Marie Lynn Miranda in 2016, ARRUF offers new opportunities but also a new challenge. The Provost inspired members to acknowledge Rice as the site of many of their most significant experiences and scholarly endeavors: Our intellectual trajectories began or took flight here. The Academic Memoir Project is intended to consolidate accounts of our experiences that can benefit the University Historian in her research projects. But at the same time, Provost Miranda insisted that we imagine a new chapter ahead and envision for ourselves a new definition of retired faculty in a university community.

Enthusiasm for the new organization was evident at the reception that launched ARRUF and honored newly retired faculty in May 2017. This same spirit is shown in the photo above of 2018 newly retired faculty, standing on the Cohen House steps with Provost Miranda and President Leebron. Not content with the limited functions implicit in some retiree organizations' activities, ARRUF members' survey responses ranked highest the idea that ARRUF should reflect "the reasons we became faculty in the first place." Moreover, old definitions that frame "retirees" solely in legal terms of employment do not fully encompass retired faculty members' sense of identity. Exploring new definitions and opportunities for being retired faculty in a University community is now our challenge, facing forward.

We welcome all retired Rice University Faculty in the exciting work of exploring new possibilities as members of Rice University's dynamic community.