Association of
Retired Rice University Faculty
Welcome to ARRUF, where innovation and collaboration transform retirement.
Here, friends and colleagues join in discussions, workshops, and research projects to rethink the role of retired faculty in the University and invent new forms of participation. Members share interests through groups that meet via ZOOM and, in the future, with in-person events.
DIRECTORS ANNOUNCE KULSTAD APPOINTMENT
Congratulations to Mark Kulstad, who has been named ARRUF Director for the 2020-2021 academic year.
Mark Kulstad's Vision Statement
---
From Director Clarence Miller
To address the unusual circumstances this year, it was necessary to modify some provisions of ARRUF by-laws. During June, 2020, efforts by individual members of the 2019-2020 Executive Committee and a request for nominations sent to all ARRUF members did not yield any nominations for the position of a third ARRUF Director to replace Sidney Burrus, whose term of office expired on June 30, 2020. Uncertainty due to the coronavirus pandemic doubtless contributed to this result. Hence, no election for Director in June was held.
In July Mark Kulstad expressed interest in the position but said that he could not agree to the three-year term of office specified in ARRUF's by-laws. Following discussion with Mark, the two continuing directors decided to submit Mark's nomination to the 2020-2021 Executive Committee for approval. However, changes to the by-laws were required to allow not only a shorter term of office but also the unusual process for naming a Director.
Allowed by the by-laws to approve changes in their provisions, the Executive Committee on August 13, 2020, approved the changes shown nearby. Some of them provide flexibility by (1) allowing Director terms less than three years in length under unusual circumstances and (2) providing more flexibility for terms of committee co-chairs and in the annual June election schedule. The other change allows the Executive Committee to appoint a Director without a general election under special circumstances provided that nominations have previously been requested from all members but none were received.
Following the above action on by-law changes, the Executive Committee approved appointment of Mark Kulstad as Director for the 2020-2021 year. We appreciate Mark's offer to assist in this tumultuous year.
Reporting: Directors Clarence Miller and Ahmad Durrani By-Laws Revisions
---
WANT TO KNOW ALL ABOUT ARRUF?
Read the ARRUF ANNUAL REPORT for 2019-2020.
---
Please be alert for requests from the Membership Committee to update your information at ARRUF.
---
---
From the September 17th Meeting: TWO PERSPECTIVES ON HOW RICE IS OPERATING
1. FROM THE PRESIDENT'S OFFICE: DR. KEVIN KIRBY
Kevin Kirby, Vice President for Administration, will provide an update and answers to your questions about how things are going on campus: Lab, studio, and performance arts. Events in the BIG BUBBLES. Masking, T-Shirts and Rice Owls' Irrepressible creativity.
Kevin E. Kirby, Ed.D. is the Vice President for Administration at Rice University. Prior to joining Rice, Dr. Kirby was the Chief Operating Officer for the Columbia University Medical Center; served as Executive Officer for the National Institute of Neurological Disorders and Stroke at the National Institutes of Health; held several management positions with the Army Research Laboratory; served on the staff of the White House Office of Science and Technology Policy; served as science adviser for the Commanding General, Army Forces Command; and started his career conducting research on the low temperature behavior of materials at the Army Materials Technology Lab.
In addition to his administrative responsibilities, he teaches two popular undergraduate classes – Leadership in Higher Education and Crisis Leadership. Kevin holds a B.S. in chemical engineering from Syracuse University, an M.S. in management from the Massachusetts Institute of Technology (Sloan Fellow), another master's degree in social and organizational learning from George Mason University, and a doctorate in higher education from the University of Pennsylvania.
---
2. WHAT'S NEW WITH ARRUF MEMBERS' RESEARCH? BOB BRITO AND BOB CURL RETURN WITH ANSWERS
Earlier, in Fondren 412, they spoke to us about their project in progress combining and modifying models to drill down on the relation between artificial intelligence and employment. Now their results have been released in a new Baker Institute publication. On September 17th, Bob Curl reviewed their model, their conclusions and the implications You also can read the entire study at
https://www.bakerinstitute.org/media/files/files/b78932bb/wp-brito-curl-automation-080720.pdf

---
PERSPECTIVES ON UNIVERSITIES AS COLLABORATING ECONOMIC ENGINES
THE NEXT GENERAL ZOOM MEETING: OCTOBER 15th 10 A.M. CDT
In several cities and regions across the country, universities have united to support economic growth through the formation of new companies and the development of new products. Houston is one of the few cities that lack a concerted effort, despite having the best undergraduate program for entrepreneurs at the University of Houston and the number two graduate program at Rice. Mid-town Houston, located between the business centers of downtown and the burgeoning Texas Medical Center, has languished, but now collaborating companies, an academic network of universities, and other organizations are collaborating to transform the area and Houston's economy at the ION CENTER. The complex of retail, educational, residential, and other facilities will be redeveloped around the fully renovated Sears Building, owned by Rice University. The panel of distinguished speakers will explain how they believe this project can fuel Houston's economy and demonstrate new forms of institutional and civic collaboration. More details about the event, to be held on ZOOM, will be posted soon.
Jan E. Odegard, Interim Executive Director of The Ion
Reginald DesRoches, Provost, Rice University
Robert Bruce Jr., Dean, Glasscock School of Continuing Studies at Rice (GSCS will provide the entrepreneurship and other coursework for The Ion)
Tom Killian, Associate Dean, Wiess School of the Natural Sciences (has served as the liaison between Rice and The Ion)
Neal Lane, former Rice Provost, former Director of the National Science Foundation
More Details to follow soon
---
ARRUF INTERNATIONAL AMBASSADOR'S NOTEBOOK: APRIL MAY 2020 MID-SUMMER July-AUG 2020 : Viqui and Alfonso's Recipe for Gazpacho Andaluz
---
ARRUF BENEFIT ALERT!
Did you receive a recent due date notice from Fondren Library?If you reply and request an extension due to vulnerability during the Covid-19 epidemic, they will move the due date to May 2021!
---
Want to hear more about recent ARRUF activities? Read now:
---

INTEREST GROUPS: ON-LINE NOW
It's already happening! At the August 20th General Meeting, members experienced a demonstration interest group on Internet Travel in the Corona Virus Era. Members explored the possibility of forming several groups based on shared interests, such as the one that could grow out of the August panel presentations on travel to Spain, Colorado, and New Zealand. On September 10th, 15 ARRUF members gathered on ZOOM to hear Bob Curl, Priscilla Huston and Sam Davis, Phil Brooks, Peter Harland talk about treks and travels in New Zealand. More details on how to form an interest group will be available soon.
Feeling interested already? On October 8th, Thursday, 10 a.m. CDT join the Virtual Travel for the Covid Era Interest Group, Choose 3 of your favorite vacation slides and send them via an attachment to ARRUF.invites@rice.edu to let us know you have photos and tales to tell!
---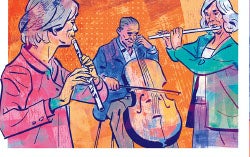 "THE SMART PERSON'S GUIDE TO AGING"
Read Paul Hond's story about Columbia University's INTEREST GROUPS--from a Saturday morning orchestra to a yoga session.
Reproduced with permission from The Columbia Magazine, Spring 2020.
---

Volunteers Breathe Life into ARRUF!
Shared leadership positions ensure that as individuals occasionally have to turn full-time attention to care of others or health challenges, another person is there to continue the club function.
* We need volunteers to bring their imaginative powers to the Activities Committee, especially, as a member or as a co-chair.
* The Membership Committee, newly formed (Thad Logan, Meredith Skura, and Sidney Burrus) has undertaken a bracing set of challenges and could use your help!
* And as you may have noted, the first Benefits and Privileges Committee succeeded in fostering changes in the library policies for retired faculty. Their survey is now two years old; we need an update!
Want to get involved in virtual committeee work? Send your name to Coreen Kovacs by way of ARRUF.invites@rice.edu.
---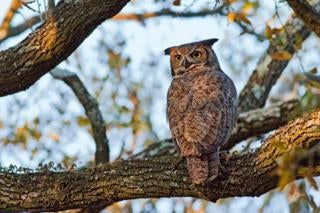 WHAT'S WORTH A HOOT???
Service to students abroad or those unable to come to campus? Birdwatching? On-line Museum trips? Travel Discussions? Being a US Friend to an international student?
SEND US YOUR IDEAS FOR EVENTS AND FUN TO arruf.invites@rice.edu
---
* Painting at Top: "RHUBARB RISING" by ANDREA DOUGHTIE
ARRUF Member Andrea Doughtie now lives in Utica, NY. In addition to her art projects, Andrea enjoys long walks and close inspection of natural phenomena, which have featured prominently in her paintings.
---
MISSED THE MEETING ON HEARING LOSS?
We have a few extra copies of the Harvard University Medical School Publication on Coping with Hearing Loss. Ask to have one mailed to you by sending a note to ARRUF.invites@rice.edu.