ARRUF now occupies 412 Fondren, which was renovated to provide an easily configured multi-use site for meetings, discussions, language-table conversations, committee gatherings, and other events. Darra Keeton's two paintings are visible in the photo below.
See Coffee Center Instructions Below.
The room now features art work by two ARRUF artists: Darra Keeton, who passed away in September 2020, and Andrea Doughtie, who now lives in Vermont.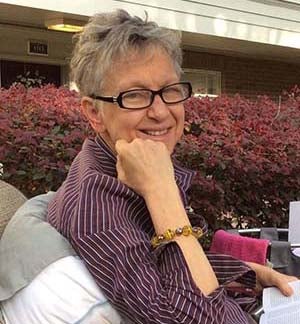 Darra Keeton
Andrea Doughtie
Project Managers for the renovation were Bob Nguyen and LouAnn Holmes. We thank them for their inspired transformation.
Project Managers in Fondren 412 with Darra Keeton's paintings on wall

Rhubarb Rising, by Andrea Doughtie
---
Want to brew a pot of coffee in Fondren 412 and relax? Here are the instructions for making a pot.
Have time for only one cup? Read the instructions for brewing one cup here.
Prefer tea? Make hot water for tea with the new automatic Capresso carafe. Instructions for hot water here.