Dec. 3 2018 ARRUF Newsletter
Holiday Reception and Luncheon December 6th 11 a.m. at the Faculty Club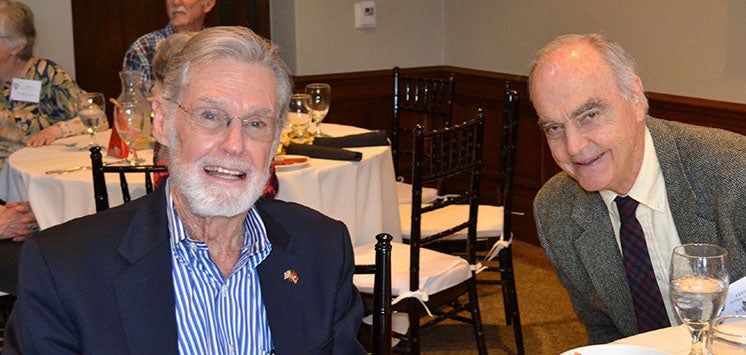 Join us for the Holiday Reception and Luncheon on Thursday, December 6th
Launch your celebrations of the holiday season by attending the ARRUF reception and luncheon on December 6th! This was one of our most enjoyable events last year, as you can see by the photo. There is no charge for the event, but we need your registration to plan seating. Spaces in the upstairs rooms at the Faculty Club are limited. Please reply to ARRUF.invites@rice.edu as soon as possible. See the Invitation Below: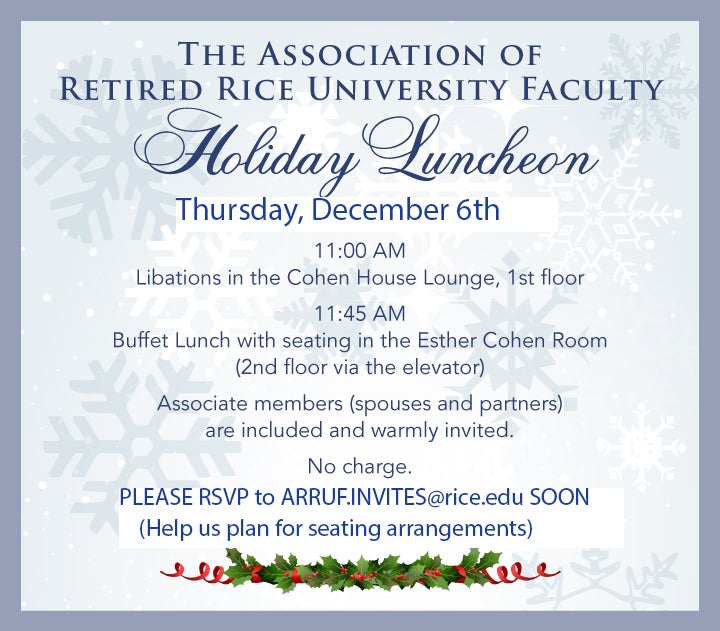 Bring a gift bag of discarded books to the luncheon on Thursday, December 6th
What makes a really great gift bag? Its contents: several books you're donating to ARRUF's transport project for the Rotary Club International Books for the World! Ahmad Durrani and Clarence Miller (and Ahmad's pickup truck) will tote these on December 8thto Pasadena, where Rotary members will sort them and prepare them for shipping across the world to places that need books. The books that were valuable when you were teaching and researching might be a great resource for an instructor in another country who has a very limited library. Pack your bag and bring it on Thursday to the luncheon.
NOTE: And mark your calendar and ready your books for future book transport trips in March and May (by then you will discover some additional books you can live without).
---
Ages Worth Celebrating! (Dec. 12)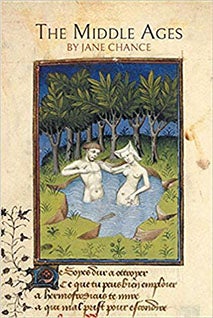 Mark Dec. 12 on your calendar. Jane Chance's second volume of poetry, The Middle Ages,has just been published. She will offer a joint poetry reading with Stacy Nigliazzo, who also has published her second full-length collection, "Sky the Oar," with Press 53. The reading will be at Kaboom Books, 3116 Houston Ave., Wed. Dec. 12, 7-9 pm.
Jane we know for her amazing publication record. Stacy is an emergency room nurse who interweaves her experiences there in lyric poems. Jane and Stacy took a nine-week poetry workshop at Inprint with UH creative writing Ph.D. poet Justine Post, author of "Beast."
Jane adds, "Just to say, by means of encouragement, you don't have to cease either your education or your intellectual journey."
---
Memoir Writers Group RESCHEDULED TO JAN. 9!

The holidays inevitably spark many memories. Your first chemistry set? Your first bicycle or roller skates? Reading a gift book in bed with a flashlight long after "lights out"? Some of these memories probably belong in your professional memoir.
Jot a few notes about these incidents and attend the Memoir Writers Group at 10:30 a.m. CST in Room 412 Fondren Library OR join us on-line using ZOOM.
Here's how:
Set up your ZOOM account first by going to ZOOM.US on your browser.
At the appointed day and time (Jan. 9, 10:30 a.m.), go to the ZOOM site and find the JOIN MEETING tab on the menu.
Put in the ARRUF meeting ID 271-570-0281 to join the session with June Ferrill, the project leader.
---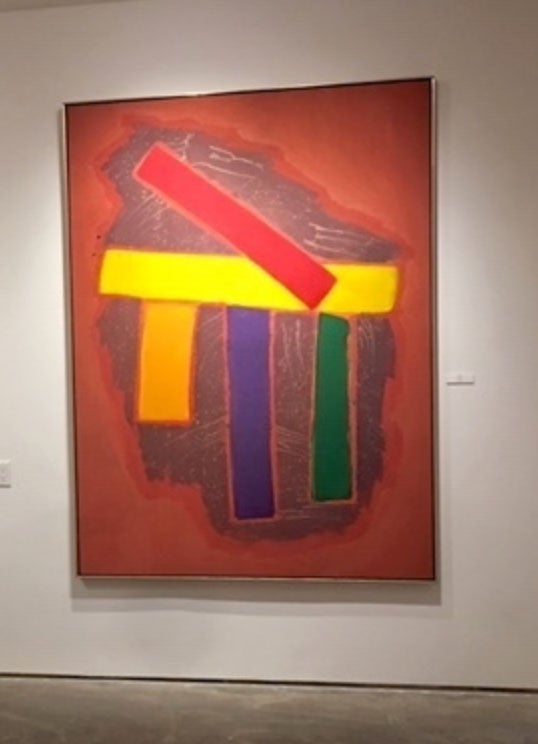 Poulos Victory Lap! And an Exhibition plus brunch ("coffee plus") December 15
Bas Poulos reports he had a good trip to Greece in September. Now he has a new exhibition near Rice at the Deborah Colton Gallery, 2445 North Blvd. (until January 5th). (see more below)
Bas says that among the several rewarding parts of his visit to Greece were "seeing my painting, 'Prince' (1987) which was donated to the Macedonian Museum of Art in 1994; meeting the extraordinary mayor, Yiannis Bouteris, of Thessaloniki at the opening of the Texas Artists group exhibition there at the museum; and visiting Athens and traveling down to the Peloponesse."
Poulos's paintings from the 80s, such as the one donated to the Macedonian Museum of Art were especially powerful. (You remember the 80's, right? When Rick Smalley and Bob Curl were opening up a whole new carbon chemistry that would win them and U.K. scientist Sir Harold Kroto a Nobel Prize in 1996.)
EXHIBITION:Now the Deborah Colton Gallery, 2445 North Boulevard, is recreating the 1980s experience for viewers with an exhibition of Poulos's works titled 'A Moment in Time.' Recently opened, the exhibition can be viewed until January 5, 2019. Gallery hours 10:30-5:30 p.m. Tues-Sat.
Video Interview and "Coffee Plus" at the Gallery on Sunday, December 15, 12:30 to 2 p.m. It will be fun to watch the interview and enjoy the light brunch. I hope lots of ARRUF members can attend.
---

ARRUF blooms in January (check the events below)
The lull after the holiday will come to an end with new ARRUF activities beginning mid-January:
A set of three sessions to discuss The Power of Positive Aging and the Longevity Economy (January 17, 24, 31) Thursdays 1:30 p.m. to 2:30 p.m. Fondren 412. Reimagine the future: retired faculty members' lives in 2020, 2030, 2040, as longevity enables more and more of us to continue the activities we like best as faculty. Remember that the iPhone was introduced only eleven years ago, and now everyone uses one—practically all the time. These discussions will be a preparation for the Second ARRUF Colloquium on the Future Role of Retired Faculty in the University in March. Part of our discussion will leverage our experience with Roger Baldwin's talk on October 3rd. We will also focus on how this changing economy will impinge on the University and its past ways of defining retirement.
The Books (and more) That Shaped Us discussion on the Second Friday, January 11, 3 p.m. Fondren 412. Read more. Each Second Friday in the month, ARRUF members gather to talk about books that shaped them. Wine and cheese enhance the discussion. We ask for volunteers to discuss their books informally, answer questions, and lead the group informally. Come join in!
The Archives Projects. January 30 Th Fondren 412. Times to be announced. Ever had fun hunting through old family photos? Wondered where megaphones went after the last game? Thousands of items in the archives are waiting for someone to identify them and tell the stories behind them. Rice University Historian Melissa Kean will introduce the archives research project. Box lunch provided. Register by January 28th at ARRUF.invites@rice.edu.
---
Send in Your ARRUF Website Profile Materials
After you trim the tree, send us your Profile materials. .Under "Members" on the ARRUF.rice.edu website, we have created a place for members' profiles. These profiles will help you locate collaborators and people who might join you for coffee or tea in ARRUF's home, Fondren 412. See the details of what to send on the MEMBERS page. A staff person will assemble your materials in a template and post the profile. John Anderson (shown above) and Clarence Miller have posted theirs. Check their examples.
---
The Activities Committee Would Like Your Reactions (and your help)
Which activities did you like this fall? What new activities should be repeated in fall 2019? Added for spring 2018? Send an e-mail to ARRUF.invites@rice.edu with your comments! We will read them and do our best to incorporate your suggestions.
And please consider volunteering for this committee (or any other ARRUF committee) as part of your 2019 plans. Send an e-mail to ARRUF.invites@rice.edu and we'll welcome you to the best committee sessions ever. It's amazing how much more fun committee meetings are now that we're retired.
---
ARRUF treasures Rice University Values of Responsibility, Community, Integrity, and Engagement in every season. Many of us will celebrate both secular and religious holidays in the weeks ahead. In these celebrations may all our cherished colleagues and friends experience the joy of community, extend hope to others through responsible generosity, and engage justly in the opportunities that demand our experience, wisdom, and courage. Life is short; drink a toast because we shared it!