ARRUF's renovated space in Fondren signals its new significance partly by its huge screen for connecting participants on site with other members remotely, but the room's striking paintings, done by ARRUF members who are also artists, convey the life affirming mood even more. Project managers Bob Nguyen and LouAnn Holmes worked with the Steering Committee to showcase members' artwork.
Blindsight No. 3 - Darra Keeton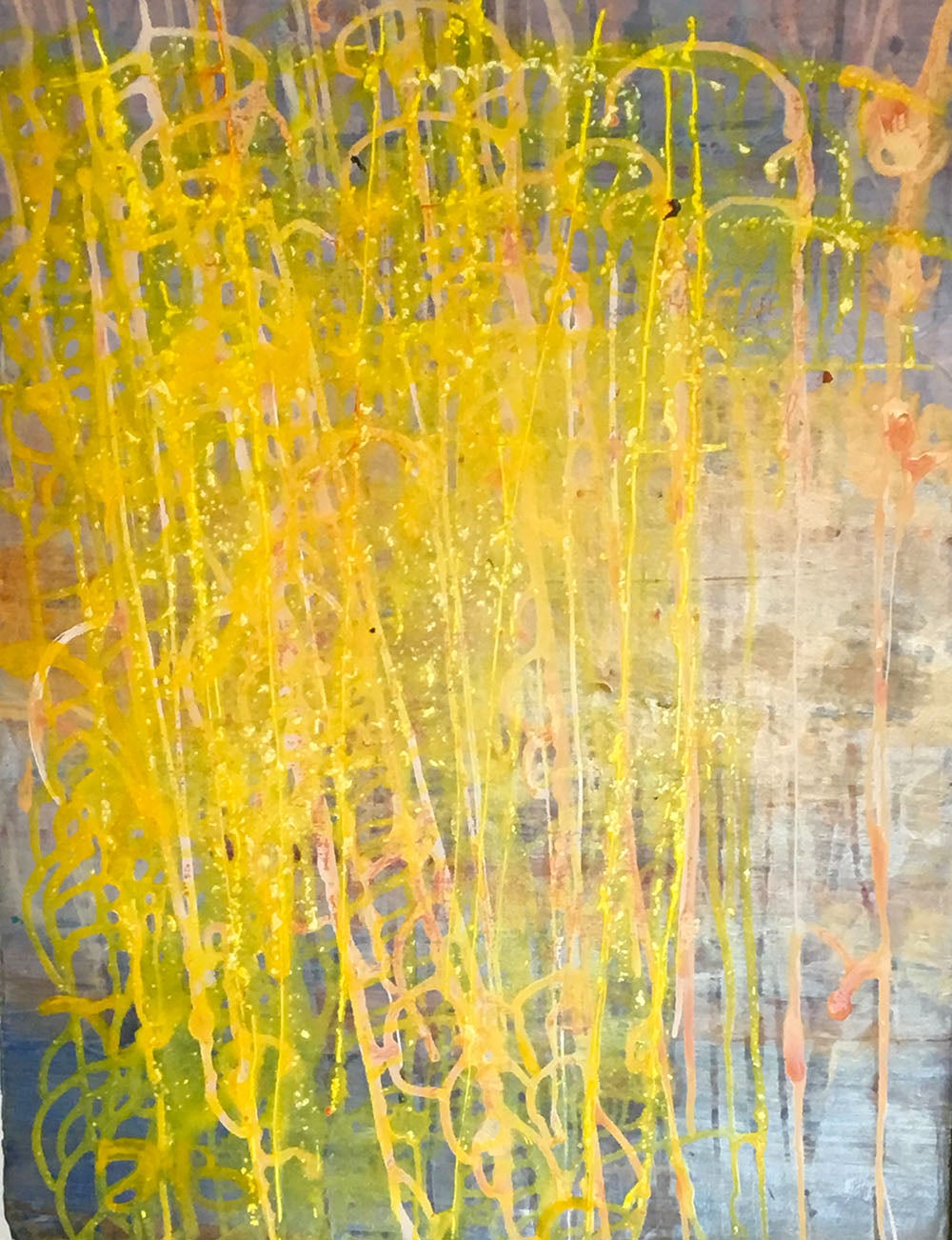 Former Rice faculty member Darra Keeton's two paintings on the north wall splash intricate cascades of bright golden yellow over complex backgrounds of blue, lime green, and rose. The first, BLINDSIGHT #3, done at the Bellagio Center in 2001, feels like a close-up look into a fireworks or the afterimage that remains when you close your eyes. Sharp color contrasts intensify the effects. The second, Sweet No. 1, has a more leisurely feeling as streams of yellow drift across a sunny background of pastoral pink, grass green, and branch-like splashes of dark brown. Flanking the double bookcase, the two paintings create a sophisticated scholarly setting with a formal symmetry broken by the dynamic cascades of color.
After Darra Keeton retired from Rice in 2012, the Departmentof Visual and Dramatic Arts sponsored a retrospective exhibition in the Rice Media Center's Main Gallery: In My Nature: Art and Science/Painting and Parkinsons by Darra Keeton (2013).The exhibition honored Keeton's impact over 19 years at Rice on the lives of countless students. It was accompanied by a second exhibition displaying works from full-time artists who were once her students, curated by Corwin Levi '00: "Second Nature: An Exhibition of Former Students of Darra Keeton." A documentary film, "In My Nature: Art and Science/Painting and Parkinson's" was also part of the exhibition. Now ARRUF members can bask in the energy of her works as well. Open the door to ARRUF's new home, and one's eyes immediately are drawn to these striking paintings.
Rhubarb Rising - Andrea Doughtie
On the south wall, a triptych by associate member Andrea Doughtie assembles three intriguing biological images in Rhubarb Rising(2009). A dynamic sense of emergence, closeup and vivid, inspires the viewer to imagine nature in process. Moving to a house in the wood near Strafford, Vermont in 2001 when her husband, Professor Ed Doughtie, retired from the Rice English Department, profoundly affected her art. There, she explains, "The New England landscape introduced me to the great pleasure of working outdoors where I revel in the subtleties of color and mood, the breadth of vistas, the intimate woodland settings."
Visitors to Fondren 412 will find her interpretations compelling, which was Doughtie's purpose: "It seems to me that one of the many functions of art is expand the viewer's perception of 'the ordinary and not-so-ordinary'—to help with noticing. There is a whole world beneath our feet on the forest floor; there are forms and relationships of elements in the landscape that might be missed if they were not concentrated and organized." Also remembered at Rice for her sense of whimsy and creativity–she once turned the apartment curtains into a gown for a Renaissance Christmas party–Doughtie affirms that art can be amusing and as surprising as nature itself. She is pleased that a piece of her art will be on view in the ARRUF headquarters, where so many of her friends are now members. Doughtie's painting as well as the two by Darra Keeton, are a gift of Frank Driskill.
And when you visit, you should also notice that project managers Bob Nguyen and LouAnn Holmes created a darker grey accent wall on the room's west side. This would be a perfect space for Bas Poulos's Southern Landscape No. 4, (2016) shown below. Everything is ready for a donor's support.