New Shepherd School Dean Matthew Loden welcomed ARRUF members for a tour of architect Allan Greenberg's new 84,000 SF Brockman Hall for Opera. On October 8, ARRUF gathered at Alice Pratt Brown Hall and walked across the connecting plaza to experience Brockman Music and Performing Arts Center.
Members visited with tour guide Mike Freese in the light-filled yellow and white lobby, then followed him to the triple-tiered European-style, 600-seat Lucian and Nancy Morrison Theater, inspired by the Royal Opera of Versailles and designed by Fisher Dachs Associates.
The ornate facades, inspired by classical Greek architecture, are unlike anything built on the Rice campus in years. The ceiling rosette and other trims are in gold leaf.
Anne Schnoebelen, Ph.D., one of the original faculty members of the Shepherd School of Music and the Mullen Professor Emerita of Musicology says she was very pleased to see the results of more than 20 years of planning. Others praised specific elements: "My favorite moments were learning about the magnificent piano – the Hamburg Steinway and about what goes on behind the scenes," said ARRUF member Graciela Daichman, PhD.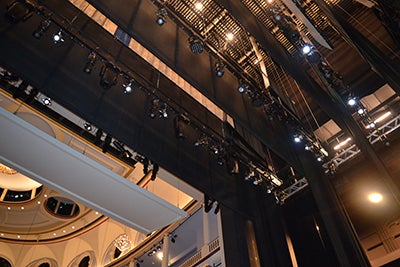 The theater was configured for opera and chamber music and combines a small hall with a generous orchestra pit for 70 musicians, rare among venues. To balance sound levels between vocalist and orchestra, the hall needed to be exceptionally tall. Musical accompaniment emanating from below the stage, is directed into the upper acoustic volume, while voices on stage will be supported more directly by surfaces that surround the audience. The challenge was to meet acoustic needs while placing people close to the action. Operable panels, curtains, and a forestage reflector also help to tune the room.
In addition to offering premium performance space, the building will meet the growing need for additional teaching and practice rooms, each with walls composed of seven layers to prevent sound transfer student playing the violin cannot be heard by the student next door practicing the flute. Practice rooms and offices are further isolated using special doors that seal on all four sides. Black-out windows protect rehearsal rooms, their ceiling tiles canted for optimal acoustics.
With its unique configuration, the center will be the first opera theater of its kind among U.S. universities and conservatories — and a hallmark venue to welcome patrons of opera from throughout the United States. As a grand finale, several members joined the audience at Arias and Asides, a collection of noontime presentations by students performance arts at the Shepherd School of Music.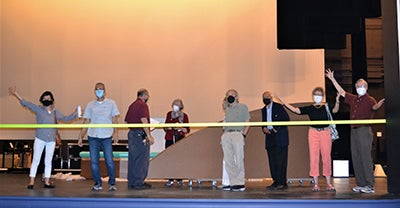 Note: On October 19th, ARRUF goes back to the Shepherd School's Alice Pratt Brown Hall and the Turrell Skyspace at 4 p.m for the Provost's Reception for New Retired Faculty.