A Reception Honoring New Retired Rice University Faculty 2020 and 2021 Concluded at the Turrell Skyspace and the Twilight Epiphany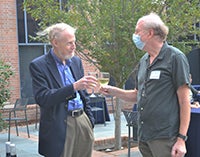 On Tuesday, October 19th, a reception in the open-air Lummis Courtyard of the Alice Pratt Brown Hall (Shepherd School) launched a three-part event, "Ascending to ARRUF," a celebration of faculty retirees from 2020 and 2021. Ordinarily, the Provost holds a reception each May just before commencement to honor those who, like new degree holders at graduation, are moving up to emeritus status. Pandemic restrictions delayed those celebrations for the past two years. During the reception, ARRUF's newly elected directors, Dr. Bart Sinclair (George R. Brown School of Engineering), Dr. Steven Klineberg (Founding Director of the Kinder Institute for Urban Research), and Dr. Meredith Skura (Department of English) personally welcomed retirees.
The presence of several present and former deans as well as President David Leebron and Vice Provost C. Fred Higgs, III, contributed to the status of the celebration. Dean Matthew Loden, Shepherd School of Music; Dean Peter Rodriguez, Jesse H. Jones Graduate School of Business; Dean Rob Bruce, Suzanne M. Glasscock School of Continuing Studies; Dean Kathleen Canning, School of Humanities; former dean Lars Lerup, School of Architecture; and Mark Kulstad, ARRUF Director 2020-2021 and former Academic Director of Graduate Liberal Studies in the Glasscock School of Continuing Studies, participated.
After the social hour, everyone moved to the Duncan Recital Hall. Director Skura called the names of all new retirees, and President Leebron and Vice Provost C. Fred Higgs III, addressed the group. President Leebron praised retired faculty for their contributions over the years, then emphasized a broad but important new challenge: to "Make Rice Better" by redefining the role of retired faculty in the institution. Vice Provost Higgs picked up the theme and introduced a new member of his staff, Dr. Devon Jones, a faculty lifecycle specialist. Her new position will assist Higgs in rethinking the potential and opportunities for faculty over their careers at Rice, including as they become ARRUF members. Higgs concluded by inviting everyone to hear a string quartet of graduate students from the Shepherd School play as the gradual introduction of lighting transformed the Turrell Skyspace during its regular program, Twilight Epiphany. The evening was perfect. Many members expressed a desire to return to see the Skyspace's dawn program also.
The president and several deans joined retirees and ARRUF members atop the Skyspace to celebrate the occasion.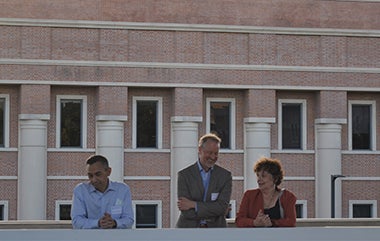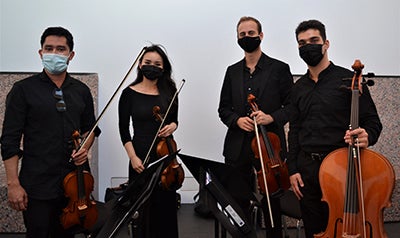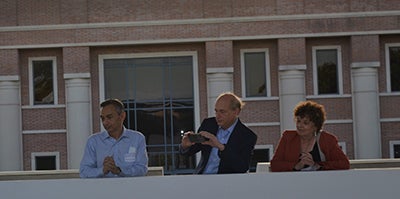 From the upper floor of the Skyspace, President Leebron (shown between Deans Rodriguez and Canning) made a video of the quartet playing Mozart.